jungle, ou avancer dans les arbres généalogiques à la machette /
jungle, or clearing a path through the family trees with a machete
(Special Edition)
The Box
Format:
410 x 260 x 20 mm, digital color print, silkscreen and black popset paper.
The Book
Author:
Léo Favier
Design:
Léo Favier
Translation:
Simon Cowper
Format:
190 x 275 mm, 72 pp.
Language:
English/French
The Model
Format:
250 x 250 x 150 mm, silkscreen.
Each model is unique.
Edition:
10 copies. Numbered.
December 2015
SOLD OUT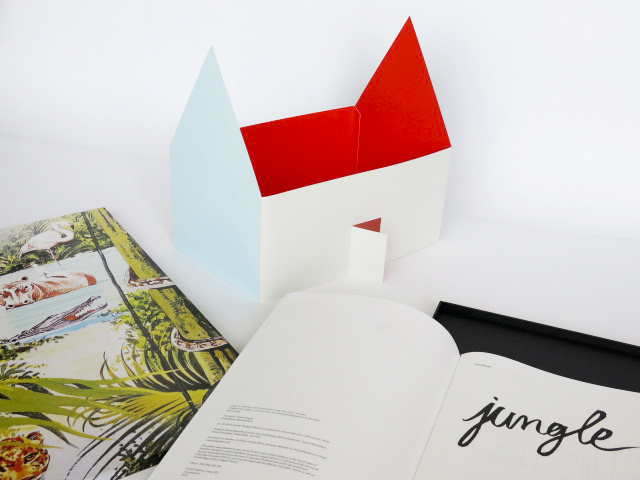 (PT)

jungle, ou avancer dans les arbres généalogiques à la machette [selva, movendo-se através das árvores genealógicas com uma catana] mostra como uma família constrói a sua história e espalha a sua própria cultura entre os seus membros. À maneira de um story board, o livro utiliza de forma original e inédita vários modos de narração e descrição, desde texto e ilustração até planos e modelos arquitectónicos.

A edição especial consiste no livro, uma caixa e um modelo construído por Léo Favier e utilizado no livro. Cada modelo é único. Todos os exemplares são assinados e numerados. Edição de 10.
(ENG)
jungle, or clearing a path through family trees with a machete shows how a family builds its history and spreads its own culture among its members. In the manner of a story board, the book makes original and unprecedented use of various modes of narration and description, from text and illustration to architectural plans and models.

The special edition consists in the book, a box and a model built by Léo Favier and used in the book. Each model is unique. All copies are signed and numbered. Edition of 10.