Ma vie va changer
(2015 edition)
Authors:
Patrícia Almeida & David-Alexandre Guéniot
Design (cover):
Léo Favier
Format:
275 x 400 mm, 98 pp.
Print:
Xerox, Hard cover. 198 black and white pictures
Edition:
200 copies
Language:
Portuguese/French/English
September 2015
SOLD OUT
Press
O Álbum de uma Família em crise,
José Marmeleira, Jornal Público, Out.2015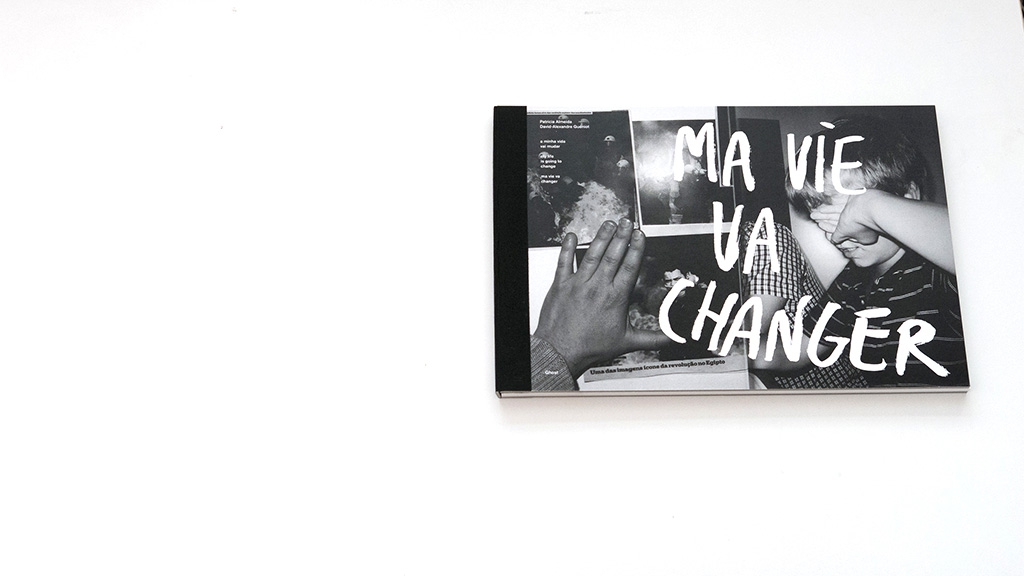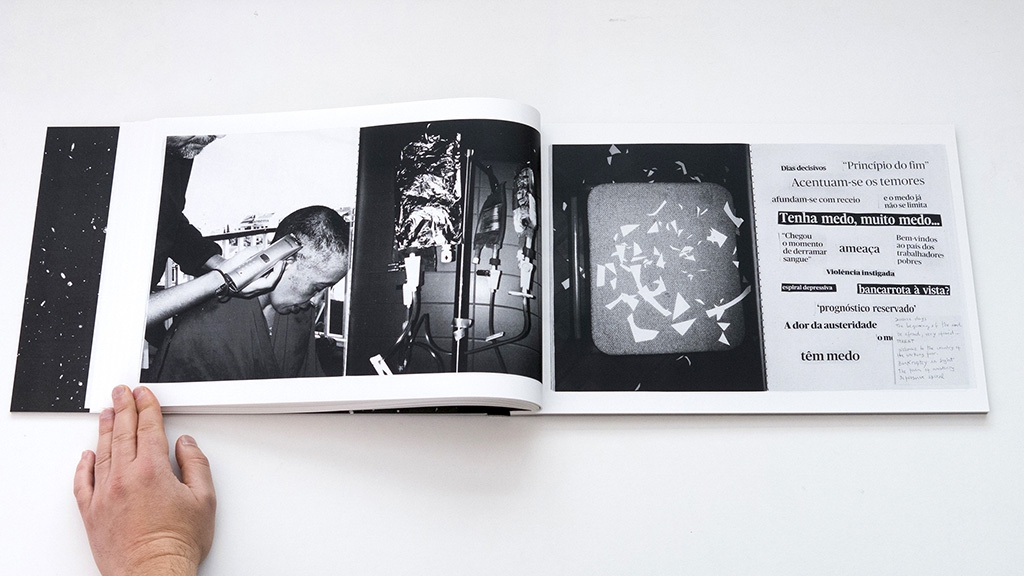 (PT)

"Durante 3 anos (2011-13) fomos coleccionando recortes de jornais. O auge da Primavera Árabe, a entrada da Troika (FMI, BCE, UE) na Grécia, Portugal e Irlanda, o terramoto e o desastre nuclear no Japão, e, por toda a Europa e nos Estados Unidos, os movimentos de cidadãos contra as políticas de austeridade a favor do resgate do sistema financeiro. À distância destes acontecimentos globais mas afectada por eles, uma casa, a nossa, um álbum de fotografias de família. O Gustavo faz 5, 6, 7 anos. Aprende a ler e a escrever. O seu amigo Gaspar faz 9, 10, 11. O seu corpo passa de criança a um de pequeno adulto. A doença volta, vai embora e volta de novo, sempre no verão, mas acompanhada de amigos. 'Banks are like cancer' diz um cartaz erguido durante uma manifestação do 'Occupy Movement' em Nova Iorque. Uma metáfora brutal que se espalha no corpo de alguém.
Este livro é um fac-simile de um álbum de imagens dedicado ao nosso filho e ao seu amigo, concebido para ser aberto em 2030. Oferece uma viagem no tempo, de um futuro incerto para um passado (o nosso presente) onde as nossas fotos de família se entrechocam com aquelas que nos chegam dos jornais."

Patrícia Almeida & David-Alexandre Guéniot
(ENG)
"For three years (2011-2013), we have collected press clippings. The Arab Spring at its peak; the arrival of the Troika (IMF, ECB, EU) in Greece, Portugal and Ireland; the earthquake and nuclear disaster in Japan; and a bit everywhere in Europe and the USA, citizen movements against austerity policies in favour of the bailout of the financial system. Far from these world events, yet affected by them, a family, ours, a photo album. Gustavo is 5, 6, 7 years old. He learns to read and write. His friend Gaspar is 9, 10, 11. His body changes from child to small adult. The disease comes back, goes away and comes back anew, always in the summer, but surrounded by friends. 'Banks are like cancer' says a placard brandished during an "Occupy" protest movement in New York. A brutal metaphor spreading in someone's body.
This book is a facsimile of a photo album dedicated to our son and his friend, meant to be opened in 2030. It offers a journey across time, from an uncertain future to a past (our present) where our family pictures collide with those we get from newspapers."

Patrícia Almeida & David-Alexandre Guéniot