Please Hold
Editors:
Patrícia Almeida, Pedro Letria & David-Alexandre Guéniot
Photographs:
Members of the collective [kameraphoto]: Alexandre Almeida, Augusto Brázio, Guillaume Pazat, João Pina, Martim Ramos, Nelson d'Aires, Valter Vinagre
Text:
Pedro Rosa Mendes
Design:
GHOST
Format:
210 mm x 297 mm, 40 pp.
Print:
Digital color printing. Plastic cover with silkscreen. 12 pp. booklet printed in Risograph
Edition:
400 copies
Language:
Portuguese/English/French
ISBN:
978-989-98298-1-7
March 2013
Co-edition GHOST & [Kameraphoto]
SOLD OUT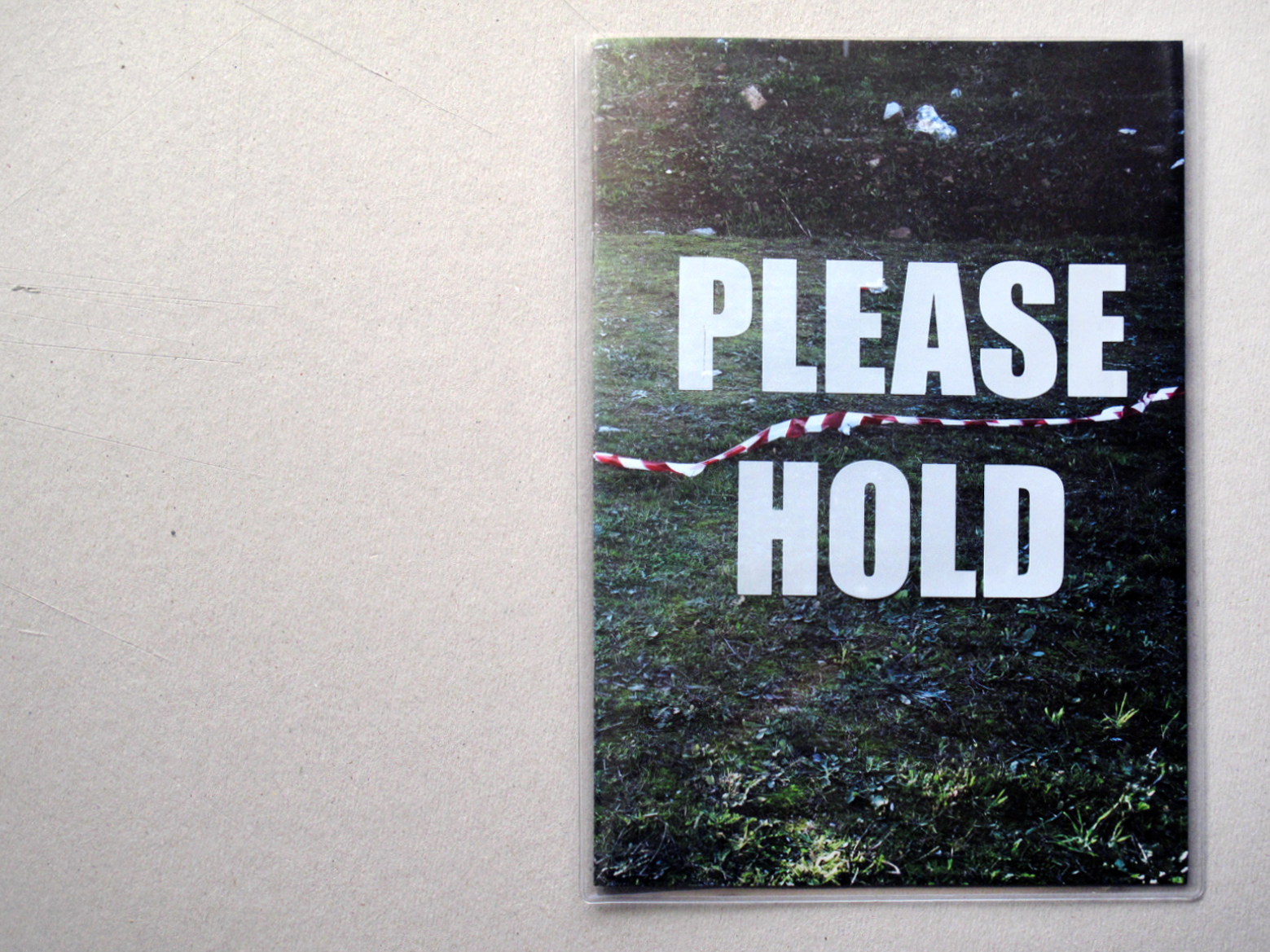 (PT)

"O dogma de quem governa hoje em Lisboa é que não há alternativa ao regime de indigência colectiva assinado com a troika. O Orçamento de Estado português para 2013 é um marco histórico. Põe fim a uma época ao rasgar o contrato com uma sociedade que, após a Revolução dos Cravos, sonhou ser outra coisa do que aquilo que hoje, sem dó, a "Europa" lhe diz que é: já não o novo-rico entre os pobres mas o velho-pobre entre os ricos."
Pedro Rosa Mendes
Please Hold
reúne um ensaio do jornalista Pedro Rosa Mendes sobre as origens históricas da crise económica em Portugal e fotografias do colectivo [kameraphoto] realizadas em 2012 em Portugal
(ENG)
"The dogma of those who govern in Lisbon nowadays is that there is no alternative to the system of collective penury signed with the Troika. The Portuguese National Budget for 2013 is a historical watershed. It puts an end to an age by tearing up a contract with a society which, after the Carnation Revolution, dreamed of being very different from what, today, "Europe" is pitilessly telling it to be: it is no longer a newly rich nation among poor countries but is instead a passé poor nation among the rich."

Pedro Rosa Mendes
Please Hold
gathers an essay by the jornalist Pedro Rosa Mendes about the historical origins of the economical crisis in Portugal and photographs by the collective [kameraphoto] taken in 2012 in Portugal.